Happy Blogiversary to me! We realized late last night  early this morning, that it has been 3 YEARS  2 years….evidently, MATH is not my strong point,  since I started blogging! I had been thinking about a blog for a while, but didn't make the time to sit down and figure all of it out. (I still haven't by the way!) Well, Jay got asked to go to the prom and we opened the house for a prom party afterwards. So, since I was up all night anyway…I started my blog! Here I am, three years later, still trying to figure blogging out, still squeezing in time to write every once in a while…and still loving each day with my family!
Jay took a sweet girl to the prom here in the mountains…it was a different night totally than the one three years ago…no party at our house afterwards, no pictures of the polar bear, no swimming at 3 am….but it was a wonderful, memory making night any way!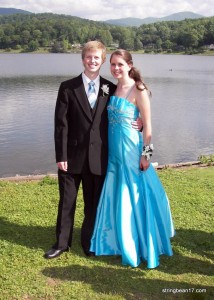 So, thanks for reading and sticking with me for so long….here's to many more years of blogging and figuring out how to create and connect in this ever changing world of the internet! Cheers!