What does it mean to be a Woman of Faith? The Women of Faith conference is coming to North Carolina in November and I am going.
It makes me think…for me, what does it mean to be a woman of faith? I asked Jesus into my heart when I was 5. Before then, I grew up being taken regularly to church…my earliest memories include time in the nursery with my beloved Mrs. Orr and my good friend Suzanne. I remember eating ritz crackers dipped in little tiny cups of water. I remember skipping along outside the church on a walk….and I remember attending the backyard bible club at Allison's house, where I was given the wordless book.
Everything clicked.
Of course.
Jesus said, "Let the little children come to me, and do not hinder them, for the kingdom of heaven belongs to such as these." (Matthew 19:14 and also Mark 10:13-15, Luke 18:15-17)
When I was laid out the gospel of Christ in such a visual way, all that my parents had taught me shifted into place. I REMEMBER this. I remember standing there and thinking, "Well, that is how it all comes together…." in 5 years my parents had LIVED the gospel daily and when this young person finished explaining the book, I said I wanted to ask Jesus into my heart. No tears. No big fanfare. Just one simple act that SHIFTED my entire LIFE.
Because from that moment on, I belonged to Jesus.
TOTALLY.
Completely.
Without reservation.
He is my best friend. The one I lean on…and my whole existence and perspective and experience growing up FROM THAT MOMENT ON was as a WOMAN OF FAITH. It is a great privilege to come to Jesus as a child. To sit at His feet. To be called His own. To be adopted into His family.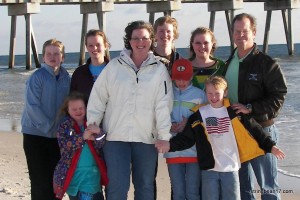 One verse I like to share with people is 'For in Him we live and move and have our being.' As some of your own poets have said, 'We are his offspring.' (Acts 17:27-29)-Bold is mine.
This verse, to me, sums up being a woman of faith. My very being is wrapped up in my RELATIONSHIP with the ONE who CREATED and FORMED me. Isn't that the most awesome thing ever?
This is part of Psalm 139. (New International Version) The entire Chapter is Amazing and says so much about God's vast love for me. And for you. If you have not experienced this kind of LOVE, please send me an email and lets talk about it. Because God intends this LOVE for you, too. Seriously. He LOVES you.
13 For you created my inmost being;
you knit me together in my mother's womb.
14 I praise you because I am fearfully and wonderfully made;
your works are wonderful,
I know that full well.
15 My frame was not hidden from you
when I was made in the secret place.
When I was woven together in the depths of the earth,
16 your eyes saw my unformed body.
All the days ordained for me
were written in your book
before one of them came to be.
17 How precious to  me are your thoughts, O God!
How vast is the sum of them!
HE LOVES YOU!
(to search the computer for this post I just used the amazing biblegateway.com and it is a great reference tool, and they do not pay me to say this…I just wanted you to be able to find things as easily as I did. My husband showed me this site!)