So, I was on the hunt for a couple of really personal graduation gifts for two special girls graduation from college.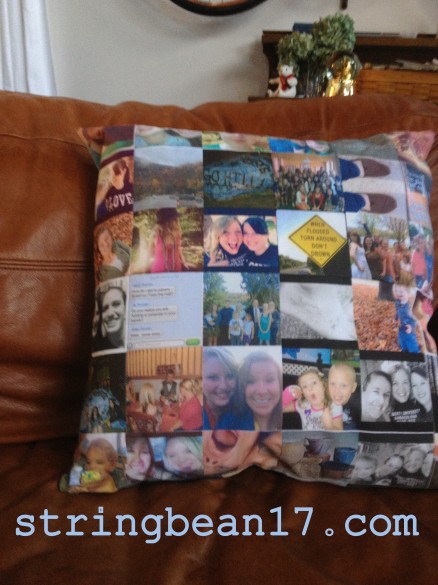 make your own pillow using Instagram Pictures DIY stringbean17.com
I saw these Instagram gifts on Pinterest, and since I have worked with photos on fabric before and I am a cheapskate, I thought, I could make that! I would say that this is a moderately involved process if you have not used a slideshow program. If you have a sewing machine and can sew a straight(ish) line, this should be a fine project. I spent several hours doing the picture/computer part and another hour or two sewing two pillows….
Materials Needed:
1 pillow insert
fabric printer paper-this can be found at a fabric/craft store and comes in different size packages. I have used several brands and they all seem to work very nicely, just takes some adjustments with each brand.
printer
computer
scissors, thread, zipper (about 14-18 inch) if putting one in the pillow
sewing machine (a basic one works fine!)
fabric for back if you only do pictures on one side. If you are purchasing fabric buy a little more than 1/2 yard, if fabric is more than 36 inches wide, you should be able to get two backs from this!
The first thing I did was ask my niece, "pocketbook, bag, small throw or pillow?" And pillow was the answer! So I went to the craft store and bought a pillow insert. I got 18 x 18, because I thought this would allow me to use lots of pictures and look nice on either a bed or couch.
Then I stalked the girls Instagram albums on Facebook and downloaded about 40 pictures I liked. I tried to get a variety of serious, funny, lights and darks…I went to my nieces page and found her pictures, she has an instagram album. As I went through the album, there is an option button. When you click on it, one of the options is download. I just downloaded the ones I liked.
Once I had the pictures, I opened up my slideshow program on my computer and made slides of the pictures I wanted to use. I use open office that I downloaded for free. It worked great! If you are not sure how to use the slide program, ask any kid over 12….all of my kids learned at school how to do slide presentations! I ended up making six slides with six pictures on each one. I made each picture 3.1 inch square and since my printer cannot print all the pictures at once on the fabric, I chose to put four pictures together for the four center squares, then did sets of two to go around the edges.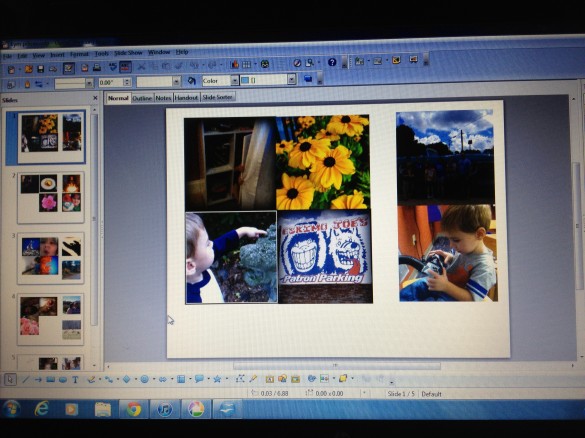 I then chose four for the corners and left white space for seam allowance. Sounds tricky, but I wanted to get the most out of my photo paper, and have a pleasing visual. At first I was just going to print 6 sheets of six pictures and sew them together. That would work perfectly fine. If you are a beginner at sewing, I would recommend that option. One of my daughters wanted me to make it more complicated. I feel like it is nice to have more seams, but they do not show very much and an easier arrangement would be perfect, too!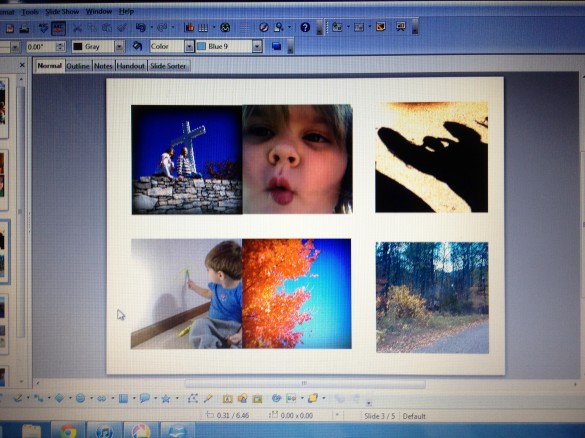 The fun part to me is printing on the fabric! I love watching something flat become textured and alive. Depending on your photo paper, follow printing instructions and print one page at a time so that you can see how it turns out and make sure your pictures are like you want! One kind of photo fabric I use messes up if I leave the backing paper on, one does not. (Trial and error!!)
Now, after rinsing, drying and setting the fabric, I cut the pictures apart and arrange. Play around with your arrangement both on the computer and after you have the  fabric printed…you may like something different than you first envisioned.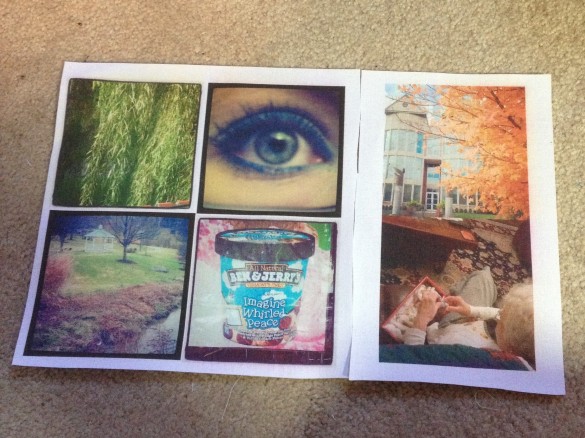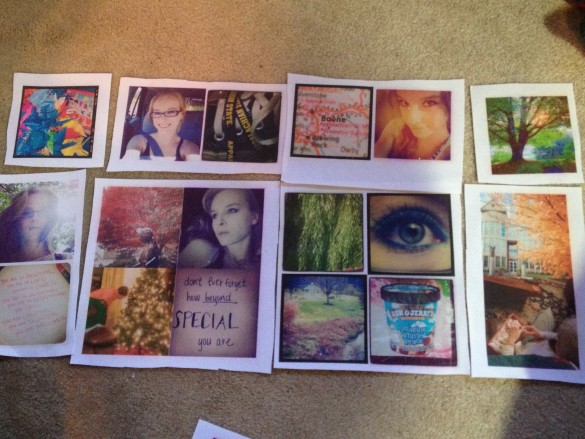 After getting the arrangement like I want, I sew each row together, press seams (very important, don't skip this, it just makes everything better), and then see each row together.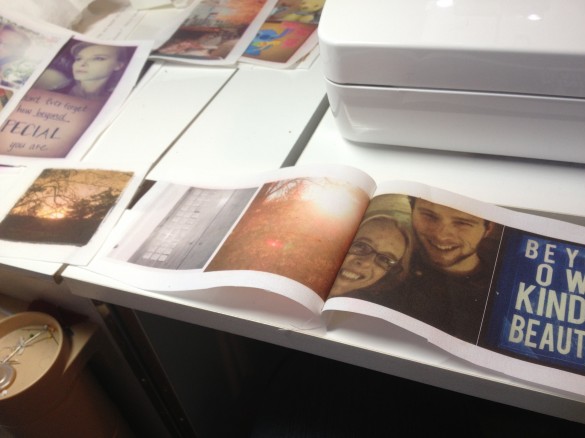 Make sure you don't sew some pictures upside down (believe me, it happens) and press your whole pillow top one more time. As you can see here, the seams do not show up much.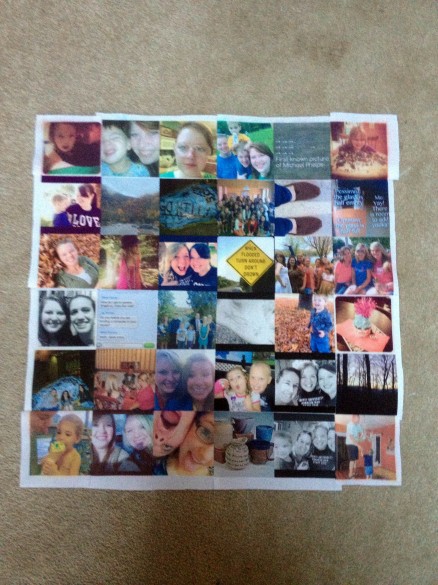 Now, decide whether you want to have a "flap" back or a zipper. I am going with zippers. You could also just sew back on and stuff the pillow. I want the girls to be able to take it off and wash it!
For a great tutorial on putting in a zipper, check out this one from Design Sponge! If you want to add a flap style back, this gives the basics on E-How. the third way you can do this is to just leave an opening and then, after your insert is in, whip stitch the bottom closed. You will have to cut open your stitches if you need to take the cover off if you do it this way. (I have done it this way many times!)
Clip corners, then turn right side out. Really smooth out seams and press before inserting your pillow form.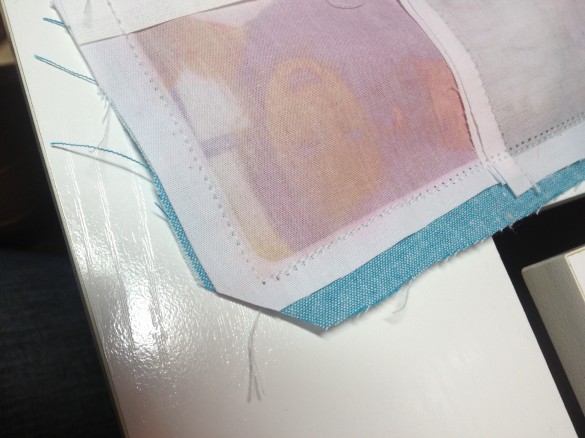 As you can see, I am not the neatest at trimming everything really straight. It does help with piecing things together, though!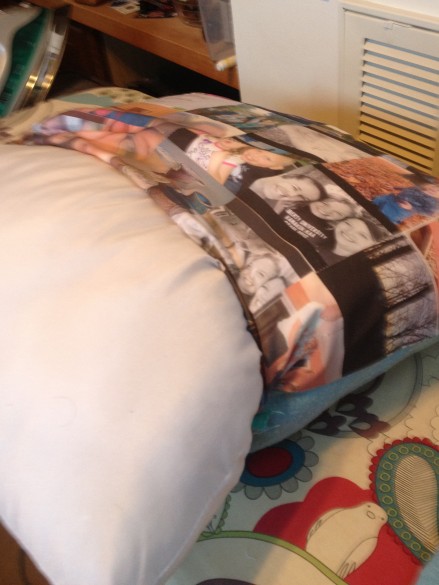 Now, grab a cup of coffee, sit back and enjoy your awesomeness. That is, until someone else sees your pillow and you are asked to make another one. Here is the finished pillow one more time!