David and I have been married for 25 years this month. Last year we went for a fabulous weekend in Asheville. We stayed at the Hilton down by the new movie theater. It was amazing.
And then we came home.
To our wonderful kids. And our 1984 foil pink butterfly wallpaper and pink blinds.
sigh
My room made me want to throw rocks at it. I love my house. I love my kids.I really LOVE my husband.
But my room….not so much!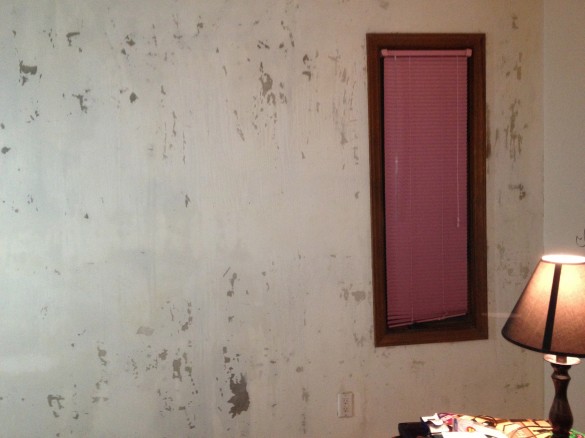 So, this year, I asked David if we could turn our room into the amazing getaway and spend our weekend away at our house!…. With the help of my kids, we set out to redo my room in the weeks leading up to our anniversary. We scraped wall paper. Jay scraped popcorn off the ceiling. We patched holes and smoothed the ceilings rough spots. Finally we were ready to paint. Jay first painted the ceiling while I trimmed the edges. That night when I went to bed, it was so nice. Just having the ceiling done was a vast improvement! My goals for this room were to keep my black and white bedding and to use my same furniture. I also wanted to create a warm, cozy environment that we could relax in, while fitting in with the mountain cabin house we live in. So, after looking at a million colors, asking my friends on Facebook and looking at lots of bedrooms on Pinterest, I chose a warm rich green.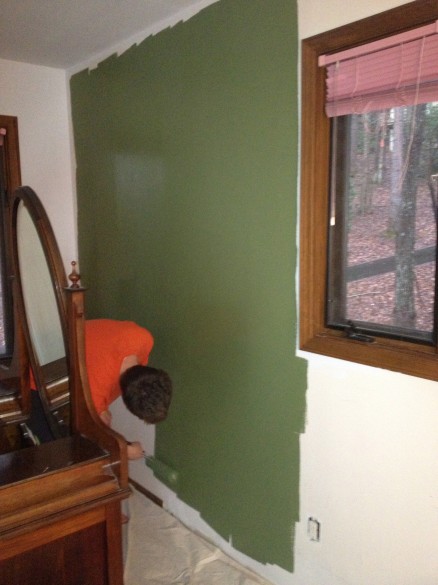 Jay rolled the walls while I trimmed. We got one coat on and decided to wait until the next day for the following coat. Boy was it hard to wait!! I love the color. It is not something I would have just picked out of all the paints, but I am learning that sometimes the room dictates the color. My kitchen is a good example of that. It is painted a warm marble color I would not have chosen, except when I looked at the paint samples with all the other elements of the room, that is the color that the room needed. Same here. I LOVE sea glass and turquoise colors. I especially love them with black and white. But when I looked at them with my room, they were not the right color. Also, one blog I read recently said that to blend your house, colors from one room should reoccur throughout your home. This green shows up in paintings, in the rug downstairs, in my Italian horse cart stick hanging on the wall….I had never really thought about how having colors show up all over the house brings that cohesive look to a home, but it really does. So, I am going to be a little more deliberate with that from now on.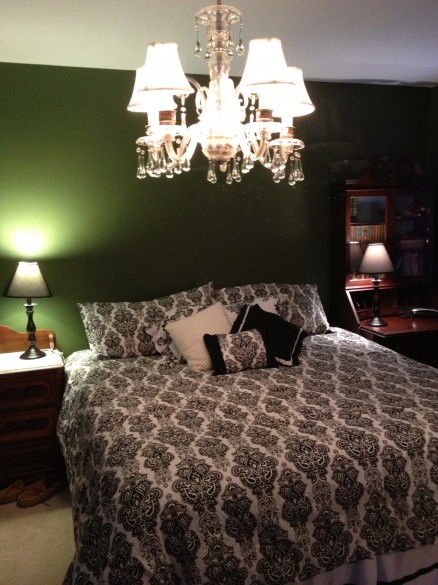 As I was pulling the room together, one thing that bothered me before we redid the room was the clutter David and I had all over our tables beside the bed. We both read, and so books and things we want to look at pile up. Again, on Pinterest, and in the stores, I saw a lot of little chests next to the bed instead of just a table. As I was brainstorming, I remembered that we had several pieces of furniture in other places in the house that would work if they fit. This saved me some money, just by looking at what we had! And in moving them, it really freed up the space where they had been.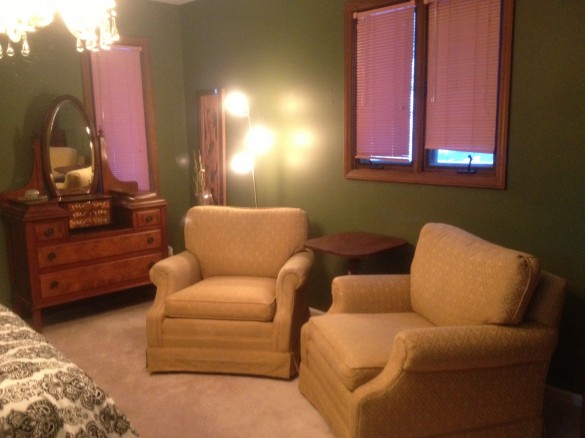 Okay, so I know you are looking at the groovy pink blinds and wondering…I had to leave them up till I could find what we wanted. This is the hard part of pulling a room together on a budget. Waiting until you can get what you want. In my looking for nightstands and headboards and curtains…I went to my favorite stores, Goodwill, Salvation Army, The Second Blessing, and Habitat's RESTORE. While I was looking, I saw these big comfy chairs. I don't know about you, but one of the things I love in a great hotel room, is a nice chair. I don't always use the chair, but I like the way they look! In our room before, we had only one rocking chair, and it was usually piled up with stuff. Not very conducive to relaxing or sitting to watch a movie. (I am blogging from one of these chairs now and I can honestly say, I am so glad we got them!) I was not sure about the size or the color (I know I can slip cover them later…) but when I told David about them, he said, GET THEM!! So I called the store and they put them on hold for me! YAY! I don't know where they came from, to me they remind me of a hotel lobby, but there are many wonderful homes around here that are vacation homes, so they may have come from one of those. I found them at the Habitat store.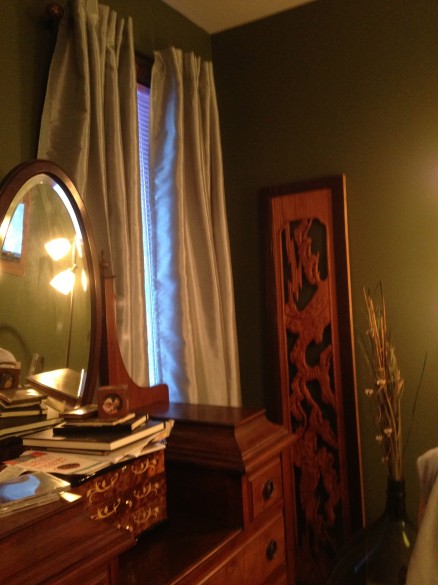 Back to the anniversary weekend. We had a blast!! The older kids volunteered to keep the younger ones and give us two days together! We went out to eat at one of our favorite restaurants, The Chefs Table. We came home to our wonderful bedroom! David had stocked the tv cabinet (a dresser I moved from somewhere else in the house) with small bottles of alcohol just for fun…The next day we ate breakfast in Maggie Valley at the Holiday Diner. We had farm fresh eggs and everything was great! Then we drove into Asheville for a day of looking around and shopping and just being together. We loved the time we had just to talk, walk around, go to some of our favorite stores. We tried a new restaurant in Asheville that had big burritos. I can't remember the name, but it served humanely raised chicken! It was great!!
We found curtain rods at Tuesday Morning and bought some curtains that we ended up taking back. After looking online and in lots of stores, I ended up getting them at Wal-Mart. I love the look. They are a sea-glass blue green that ties in our bathroom to the bed room and I love the way they look with the green walls. It took awhile, but the pink blinds are now gone for good!
For our bathroom, I moved in one of the benches that goes with our dining room. I bought a great "spa bathroom" curtain at Lowes for the shower. At Belks, I found lovely towels in the color I wanted, and I got really nice bath rugs at Wal-Mart that match and are so nice feeling on my feet! We still need to paint the bathroom, but I haven't decided on a color yet…one thing at a time!
What I learned from doing this is that sometimes the best get-away is the one in your own home. That taking the time to make my everyday environment beautiful is not just a luxury. Having our room nice has lowered my every day stress in ways I did not expect. I used to avoid coming upstairs, because my bedroom was just yuckky. Now, when I need a minute (or an hour) to myself, my room is a great place of retreat. I also learned that rooms can dictate color, and to be flexible in my ideas of what I think something should look like. I learned that small adjustments, such as repositioning the bed and borrowing furniture from other places can pay off in major ways. I learned that speed thrift shopping can yield unexpected treasures, to keep my eye out for things that I can use other places while I am looking for something specific. I was looking for an old door for a headboard, and found two comfy chairs instead. (So, I still don't have a headboard, but that will come, and the chairs make the room so much nicer!) I also learned that even though I am not one to shop and shop and I am not a fan of Wal-Mart, that nice thing can be found there, if you look.
So, I will leave you with a few pictures of the bathroom…and if you have color suggestions for paint, I would love to hear them!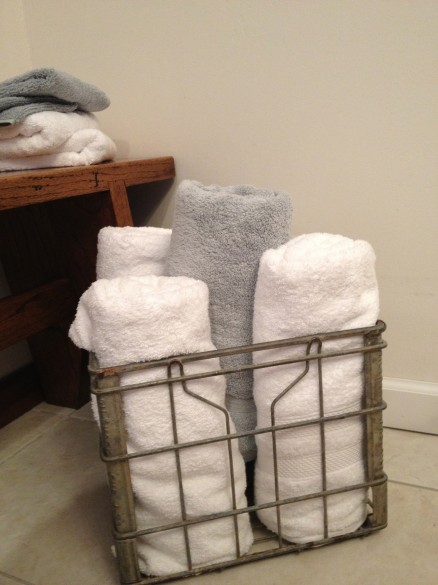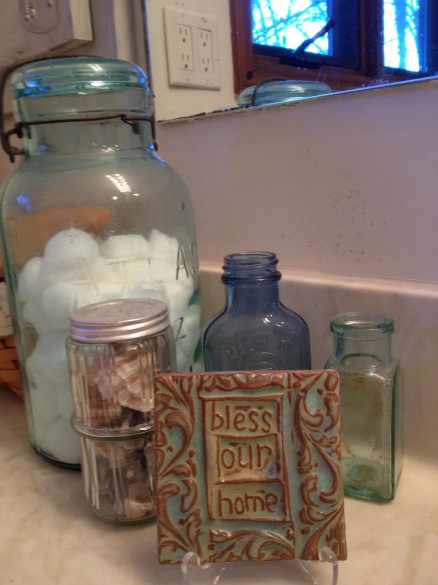 What projects are you working on? I would love to see them!